What if there was a better way?
What if you could eliminate 3,000 line JavaScript files, nasty state bugs and that nagging feeling of oh-please-don't-touch-it fragility?
What if you could make your team's communication and code collaboration better while shipping higher quality software at an increasing rate?
And what if you could do all this while investing in software skills that aren't tied to the anchor of a here-today-irrelevant-tomorrow framework?
Introducing
human javascript
Practical patterns for simple but powerful JavaScript apps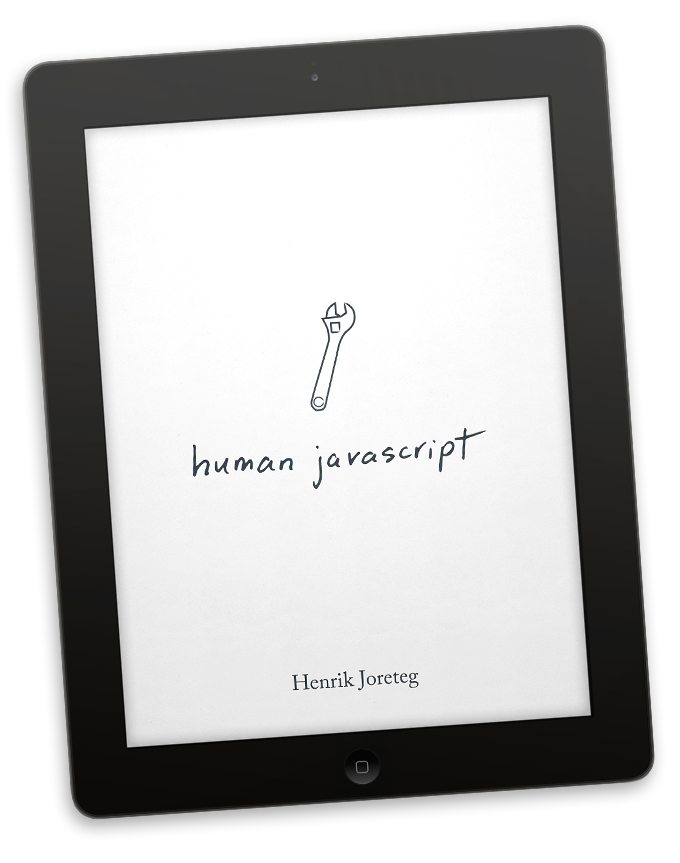 And now a word from the author, Henrik Joreteg:
Testimonials
I read the draft in one sitting, took lots of notes and at the end of it, this whole space of the frontend world that wasn't accessible to me, became clearer.
I saw the necessity for more complex MVC frameworks on the client than I had experience with. I started to understand why structuring your code in certain ways makes it more robust in the face of having multiple people work on it. The book managed to illuminate well known concepts in the unfamiliar frontend territory. Human JavaScript made frontend development accessible to me.
Truly inspired again I went on and built a small side project. It isn't much, but it makes me excited about building more web apps.
Human JavaScript is the collected wisdom of the team at &yet, where Henrik works, and all the blood and sweat that goes into their excellent client projects, and their own products. It couldn't come from a better group of people. They care about the right technology as much as teaching it. They take it upon themselves to fill the gaps of missing canon for web development.
I just can't wait to see what the people they inspire come up with.
I can't wait to see what you come up with.
— Jan Lehnardt
Berlin, September 27th 2013
Jan is an Open Source Software developer from Berlin, Germany. He is the Vice President of Apache CouchDB, the database that replicates. He's the co-curator of JSConf EU, a partner at The Node Firm and his one famous JavaScript project is mustache.js. He currently works on hood.ie, an open source noBackend solution that aims to do for frontend development what Rails did for the backend: make all the tedious pain go way, and hide it behind an intuitive JavaScript API.
Here's what you'll learn:
You'll discover a better way of thinking about advanced JavaScript application development.
You'll gain a strong foundation for building amazing web app experiences in a logical way.
You'll understand the philosophy behind how to make decisions with your app structure.
No magic frameworks. No monolithic toolkits. You're going to work with proper, real-life JavaScript in a way you'll understand, and with explanations that help you learn how to make great choices as you build your apps.
Table of Contents
Foreword by Jan Lehnardt
Ch 1 – Introduction
Acknowledgements
This Book Will Help You Build Native HTML5 Apps
Realtime apps are human apps
Misconceptions, FUD and engineering
Picking your tools
Ch 2 – Client or server? Go big or go home.
Deciding between client/server app
So I didn't talk you out of it? Ok, then go all out!
Ch 3 – Writing code for humans.
Tools and trickery
Cleverness is a double edged sword
Code Linting
Ch 4 – No more clientside spaghetti. Organizing your code.
Refactor early, refactor often
Separating views and state
CommonJS Modules
Grab your mooonboots
A note on going to production
The structure of the clientapp folder
Creating an `app` global
Ch 5 – Using Events – Modules talking to modules
Using events to build decoupled applications/reusable modules
Emitters and events, no magic, just functions
Ch 6 – Models
A simple example
Using models for everything
Applying this approach to the example
Model alternatives
Readability
Derived properties
Direct access to properties
Quick note on getters/setters
Warning!
Type enforcement
Better handling of lists/dates
Summarizing models
Ch 7 – Views and the DOM
Introducing views

What they do
How they work

Introducing HumanView
A Hierarchy of Views
Ca veat – understanding `this.$`
Registering DOM event handlers
Binding model values to templates
HumanView's convenience methods
Rendering collections
A bit about defining bindings in templates (à la AngularJS, Ractive)
Ch 8 – Handling templates
Stop sending template engines to the browser
How we used to do it
Why that's less-than-ideal
How we're doing it now
The end result
Ch 9 – Clientside Routing
Same sh*t different URL/handing control of routing to client
How to deal with clientside routes
Ch 10 – 3... 2... 1... Blastoff!
Application launch sequence
Stepping through an example
Ch 11 – Testing and QA that doesn't suck (so your app won't)
The problem/challenge of proper QA
Meet the SpaceMonkey
Doing cross-browser testing
Ch 12 – Settings and configs
The problem
getconfig
clientconfig
Using them together
Security caveats
Ch 13 – Caveats/Gotchas
Function bindings
Gotchas regarding DOM manipulation in views (they may still be detached)
Failed Ajax requests
Ch 14 – A few closing thoughts
Staying up to date
Complimentary resources
Open Source
Feedback
Thank you!
Here's what's included:
DRM-free Kindle, ePub, and PDF copies
100+ pages of clear explanations
Code examples
Project skeleton for JavaScript applications
A lifetime subscription of updates to the book
(100 user site license also available during checkout)
Stay Up To Date
Every so often we'll make some special announcements about tools and new resources, highly limited Human JavaScript training, major updates to the book, and special sales. Add your email here to get on the list for announcements.